Things are starting to settle down a little bit around here now. I have finally gotten some pictures and videos together that people have sent me, so I figured I would get together a good blog about the EMM. I'm sure I will add to it a couple times as more people send me pics and videos, but I can't leave you guys hanging too long. lol
It all started at 5:30am Thurs 22nd, as we loaded the last minute things into the truck, strapped Montana into the car seat and loaded Trouper into the horse trailer to head to Murfreesboro, TN for the Extreme Mustang Makeover Eastern Stampede. I couldn't believe how quickly those 100 days had gone.
As you may remember, Montana tested positive with swine flue on Tues and Jamie and I both started getting sick on Wed also. We all three ended up on Tamiflu and none of us really felt like a weekend trip, but we all had to cowgirl and cowboy-up.
Jamie had to work on Thurs, so he stayed behind to leave early Fri morning with my dad and niece, Kelsey. It was dad's birthday and me, mom and Montana were heading out of town. Luckily, Jamie took him out that night and we went out again a couple times once we were all together in M-boro, TN.
We arrived at the Tennessee Miller Coliseum at about 9:00am. I got signed in and found Trouper's stall and my tack stall and started getting settled in. Then, I took mom and Montana to the motel room and headed back to work with Trouper. I stopped to decorate the truck on my way back. LOL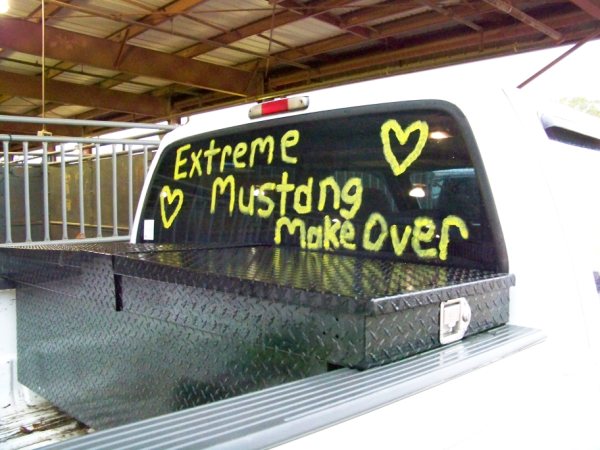 I also painted "Trouper & Amber" on each back door window.
I stayed up at the barn and worked Trouper until time for the Trainer's meeting at 5pm. During the meeting they announced the winners of the Dawn Lappin Mustang Trainer Assistant Fund. (On Aug 27th, I received an email about the fund. It was to help trainers that wanted to buy their mustang back and needed assistance. They said that they would pick a few trainers and give them each up to $500 to go towards the purchase of their mustang. Within 2 hours of the email arriving in my inbox, I had filled out the application, written a 2 page essay, took it all to the post office and mailed it off priority mail!!)
Well, they read over all of the application and picked 5. They announced that this time, they had chosen to give one trainer $800!! Guess what, that trainer was me!!!! Praise the Lord!! I jumped up and down and then bursted into tears right there in front of all of the other trainers. That meant so much to me. I had prayed for that grant, but I never would have thought that I would have gotten that much!!
After the meeting, I worked with Trouper a bit more and then bathed him and cleaned him up nicely. Then, I took him back into the coliseum with his cooler blanket on and lunged him a bit to help him dry and stay warm.
I headed back to the motel at about 10:30pm. I worked on posters for Trouper's stall until about 2:30 and got about 2 hrs asleep before I was up and on my way back to the barn to get Trouper (and his stall) ready for the competition.
Mom helped me hang my posters on Trouper's stall. I made one poster in honor of Glenn Graben and I made one with newspaper clippings from the Times Journal and The Weekly Post. Mom had also had a poster made with lots of pics of me and Trouper during our journey.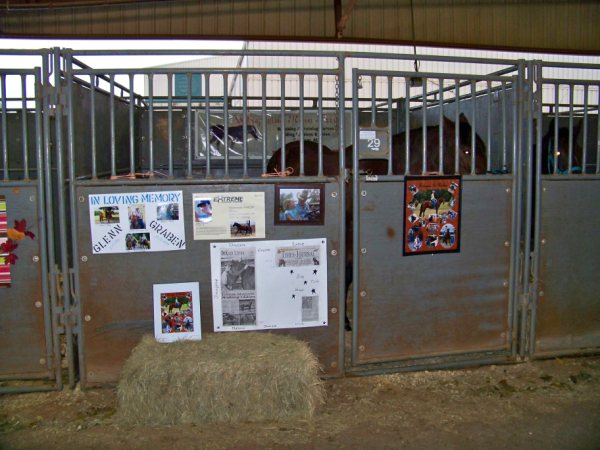 After Trouper finished his breakfast and I got my nerves in check, I got him out for some practicing. They opened the arena from 7-7:30 for us to practice in.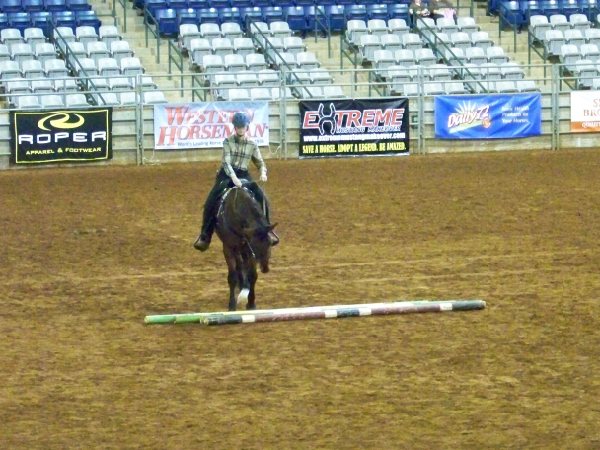 The competition started at 8am on Friday and we were 28th in line so we had some time to relax and get pictures of our little fans. :-)
Here, Trouper and I pose with Montana, Ava and Mia.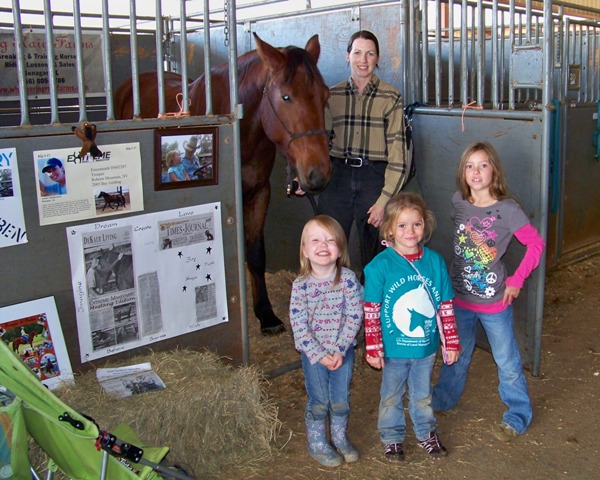 Time went by fast and it was our turn before I knew it! The first part of the competition was the In-Hand portion. I had to lead Trouper through a series of obstacles including:
walk over ground poles, pick up object off of one barrel and take it to another barrel, put a saddle pad and saddle on and take it off again, pick up all 4 feet, load into a horse trailer and unload, trot a serpentine around 3 cones, walk into box and do 360* turn, and walk into poles and back through an L
Here's a couple pictures. I'll have more later.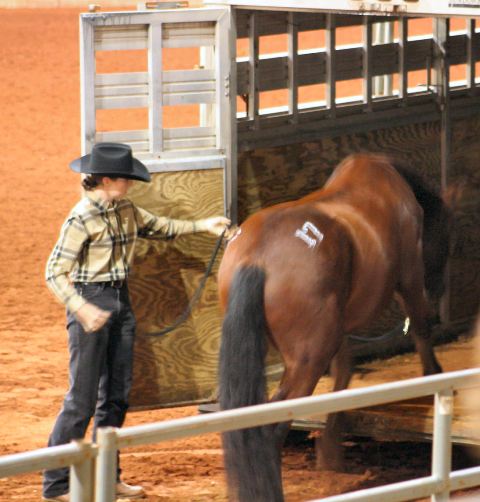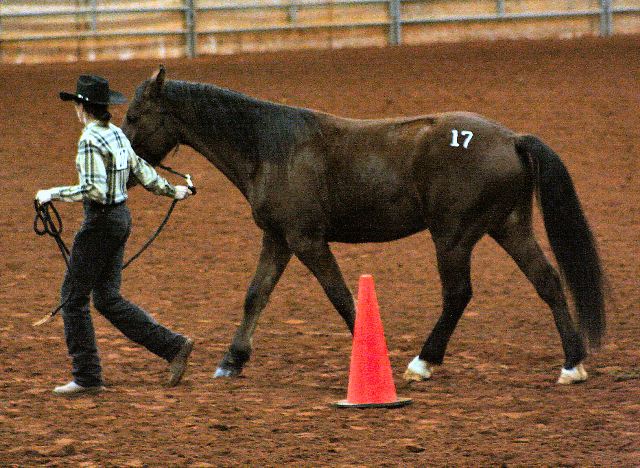 Here is a video a friend took of my In-Hand competition.
At the end of the In-Hand portion, we had to take our Mustang into a small round pen area, un-halter them and shoe them away. Then, we had to re-approach them and catch them again, to show how catch-able they are. Then, a judge would come in with us and judge the Mustang's body conditioning.
I tied for 1st place on Body Conditioning and came in 5th place in the In-Hand Competition. That put us in 4th place going into the Horse Course.
In the Horse Course, we had 90 seconds to do whatever we wanted without props, but we could use the obstacles in the arena. Then we were to dismount and mount again, trot to a cone, pick up a canter in the left lead, canter around a barrel, trot into an alley made of poles, back around an angle, walk out and over the bridge, trot over cones, walk into box, to a 360* turn to the right and exit at a walk.
Here are a few pics of the Horse Course. (I'm sure I'll have more pics of the Horse Course as well)
I was a nervous wreck as I entered the arena!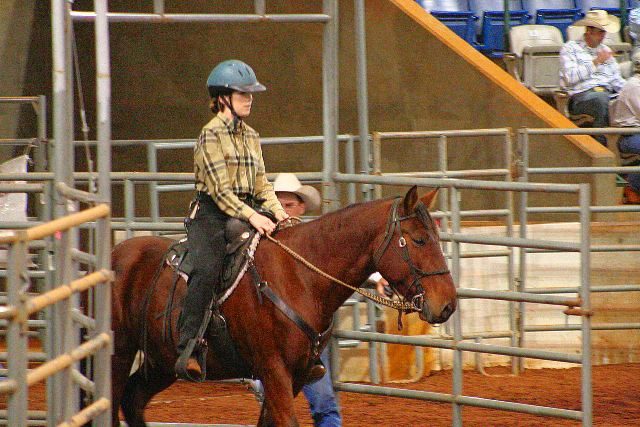 For my 90 second "At Best" performance, I decided to stay as laid back and relaxed as possible. I walked across the arena and went across the bridge.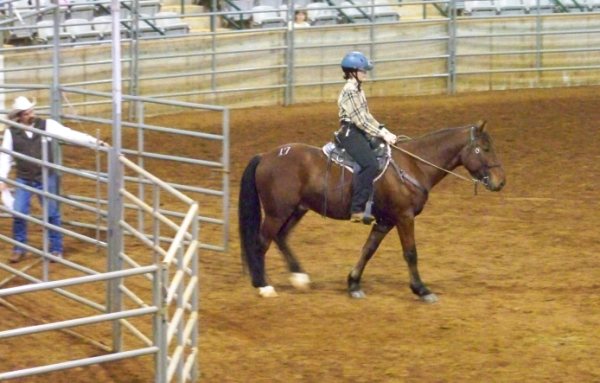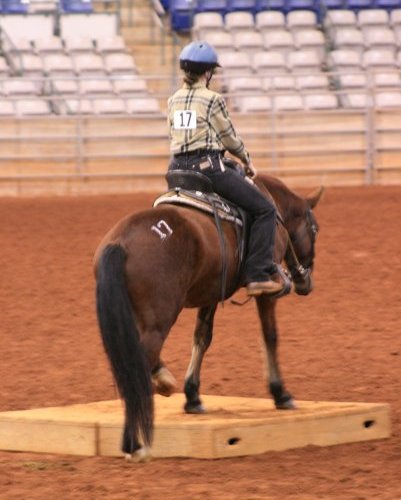 Then, I trotted back across the arena, stopped up next to the panels and did a side-pass to the right. Then, my time was over, so I dismounted and remounted.
I was way to nervous to be getting on and off! I think that's where I really started to show my nerves to Trouper. When I asked him to move off, he froze up on me and didn't want to go! He finally moved off for me and off we went. We trotted to the cone and then picked up a canter in the left lead. He broke into a trot a little over half way around the barrel and then I got him into the canter again just in time to trot into the poles for the back and turn.
When we left the poles, it was over the bridge again.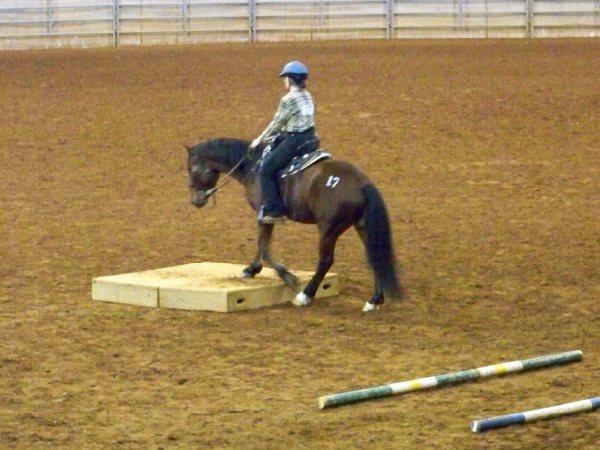 We trotted to the poles and he started over them correctly and then he got nervous and wanted to avoid the middle ones.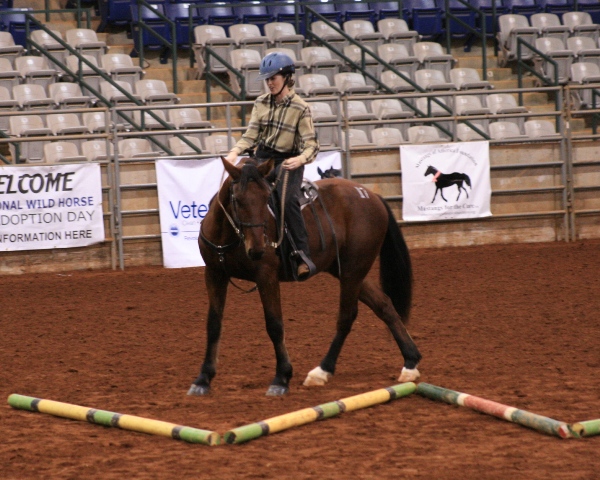 We walked into the box and did our 360. Then, we exited the arena and I was so glad it was over!!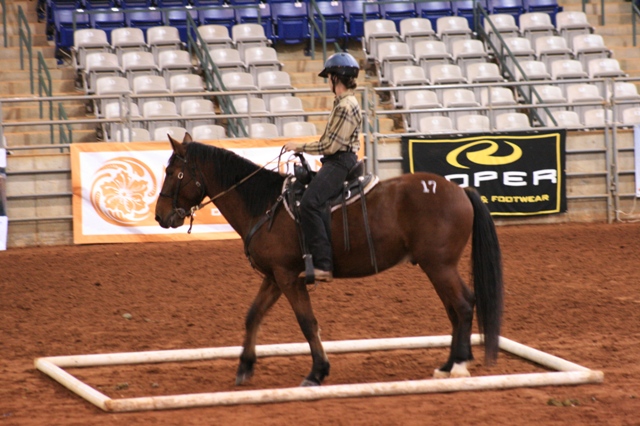 Here is a video of our Horse Course.
They were suppose to announce the scores at 7:30, so we all went out to eat and I came back with Kelsey for the announcement of the scores. We stayed until about 9:30 and finally came back to the motel room. I left my number with a couple of the other trainers and I got calls and texts every now and then saying that they still weren't announced or posted. Then, FINALLY at 11:45 I got a text saying that I had came in 12th place!!! I was so thrilled to have scored that high.
My goal for the competition was to place 17th or better, but I really didn't think I would make my goal with all of the time I had missed with training Trouper lately. With the rain, the passing of Glenn, the swine flu and my general health, I probably averaged 10 mins a day or less with Trouper while he was here. I heard other trainers bragging about spending 3hrs a day with theirs. I wish I could have done the same, but I am very pleased with how well Trouper and I did!!!
Well, I was able to rest a bit knowing that the competition was over, but I was very nervous about the auction the next day. Trouper and I had been together for the past 100 days. He had gone from being wild to willing during that time. He came as an untouchable wild animal and now he was willing partner that I could trust and that trusted me. We had created such a bond with one another. I wanted to keep Trouper forever, but I couldn't guarantee that would happen. He had to go up for adoption just like all of the other horses and I would have to be the highest bidder if I wanted to keep him.
Before the auction began on Sun morning, they had an award ceremony for the top 10 in each division (Condition, In-Hand and Horse Course).
Here I am receiving my ribbon for Condition.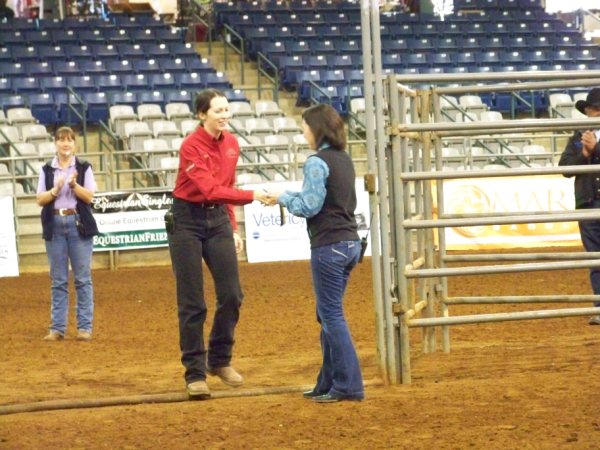 Here is the Top 10 in Condition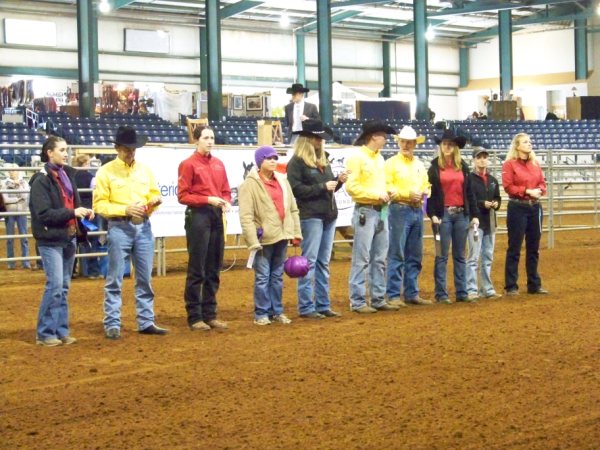 Here I am talking to Gary Itzstein, an Australian trainer from SC. I met Gary for the first time at the GA Warm Up Mustang competition. Gary and his horse, Jackaroo, made it to the Idols Top 10 Finals.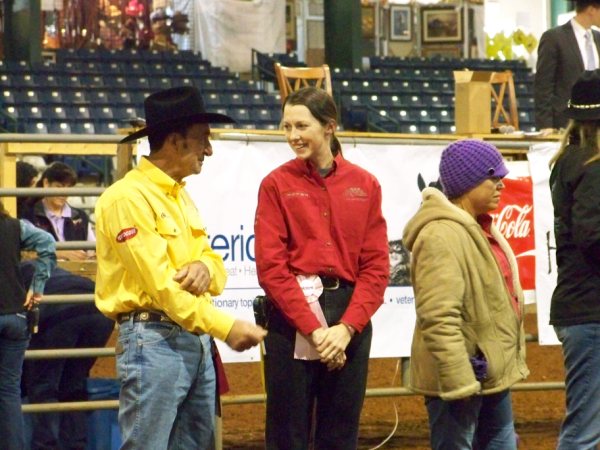 Then, it was time for the auction to start. They went by hip # and they would put a yearling in every 4 or 5 horses. We were hip # 17, so it wasn't long before it was time for me to ride Trouper in the auction. Patti Colbert , founder of the Extreme Mustang Makeover, gave me the mic to tell about Trouper.
I had barely opened my mouth before I started to cry. I told everyone that Trouper was a great horse and that my husband was going to bid on him for me and that I hoped to take him home.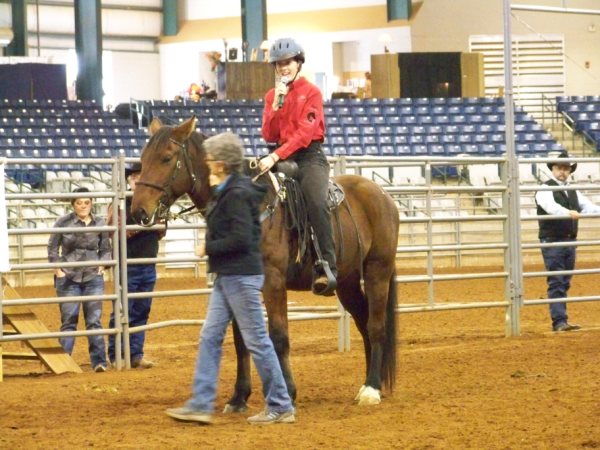 Then, I started to ride Trouper around in the auction pen.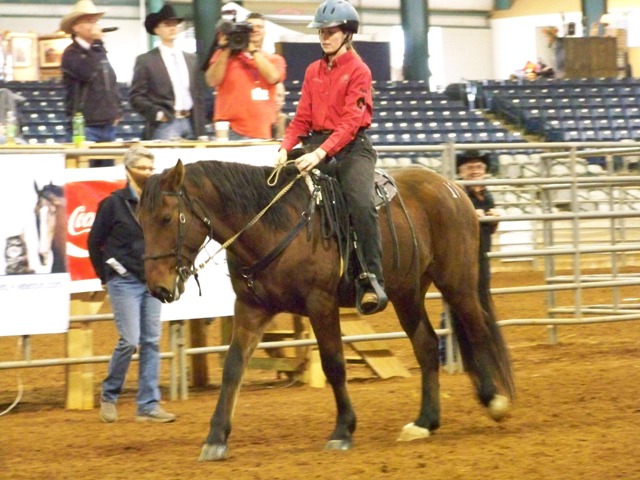 The auctioneer was talking about how big and strong Trouper was. They mentioned how nice his extended trot was and what a wonderful dressage horse he would make. The bids started taking off!!! Patti went to the auctioneer and told him that I really wanted this horse. Then, he made sure that Jamie had the highest bid and then he called it. Thank God for that!! He didn't cut anyone off at the bid, but he just didn't go on to get more bids. He called out SOLD and then said that this horse was going home with his trainer. What a relief!!!
I rode out of the auction pen into the large arena and got down and gave Trouper a huge hug!!!! I told him he was going back home and that I would keep him forever. I was met by Jamie as I walked out of the arena and we held each other for a few moments. I thanked him for helping me bring Trouper home. Then, Jamie pet Trouper and Trouper nudged him as if to say, "Thank You!"
Kelsey brought Montana over and she loved Trouper as well.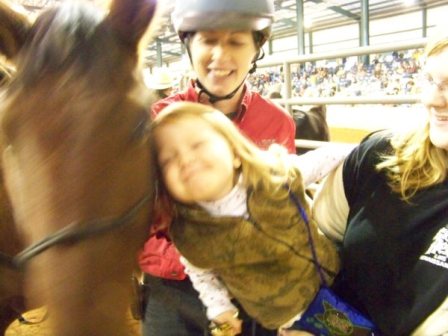 Then, we had our first true "family" picture with Trouper. Trouper truly is part of the family now!!!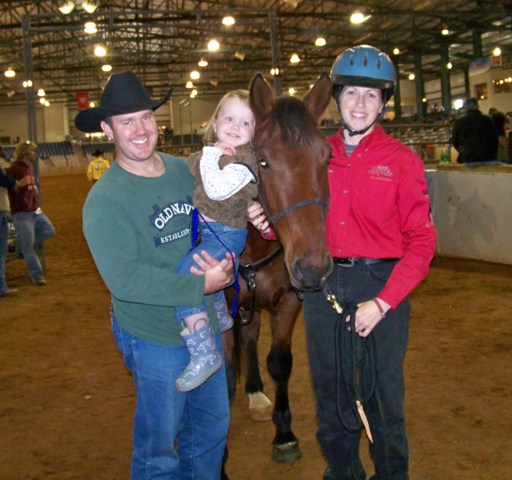 As I was leading Trouper back to his stall, I was smiling from ear to ear with excitement!!! I was now the owner of a mustang!! More than thatt, I was the owner of Trouper!!!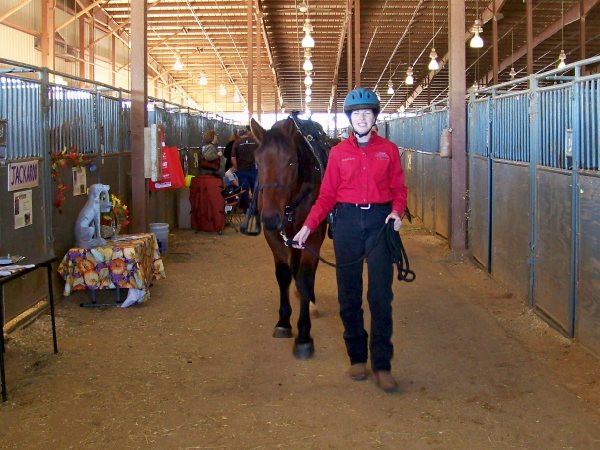 We stopped for a pose with some Trouper Fans who were waiting to congratulate us at his stall.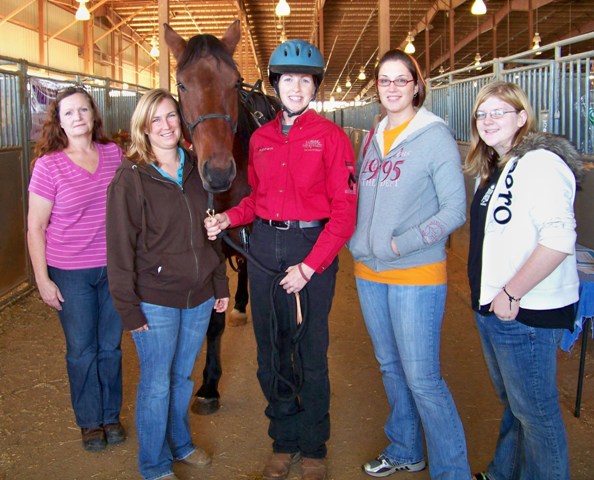 I went up to the office to pay for Trouper and sort the paper work out for him while Jamie started packing up our things.
Then, I loaded Trouper and we were homeward bound.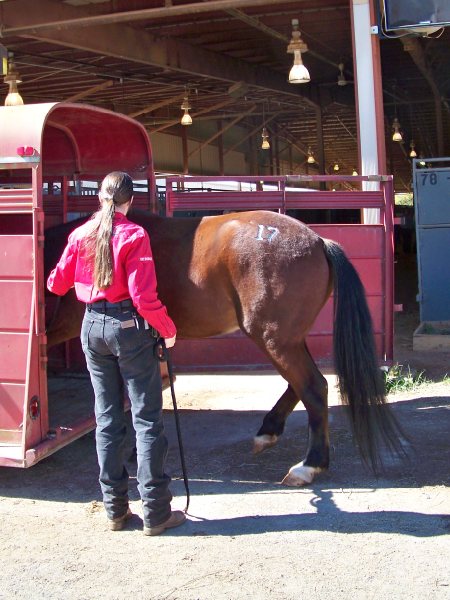 I felt so blessed to have done so well in the competition, despite setbacks along the way, and to also be taking Trouper back home with me to stay forever!
One Tues, I took the other horses out of the pasture and lead Trouper around the fence line. Then, I turned him out into the pasture for the first time. He walked around, sniffing things and checking out the fence. When Jamie pulled into the driveway, trouper decided to show off how fast he could run! WOW!!! He can fly for a big boy!! LOL After a bit, we put Denny, Jamie's 3yr old AQHA gelding in with him. They were doing great, so we also put in Scout, our 25yr old Paint gelding. I took some pics that I will post in a day or two.
I went out a couple times during the night to check on Trouper and each time he ran up to me from the back of the pasture. He seemed so happy to be back home and to be able to go out into the pasture with the other horses now.
How wonderful it is to have him home!!
Thanks again to everyone who has helped me along the way. Thank you to all of my blog followers. Thank you to everyone who made the trip to Murfreesboro, TN to support me and Trouper. Thanks to everyone who helped me be able to bid on Trouper and bring him home. THANK YOU! THANK YOU! THANK YOU!!!!
Since Trouper is back home with me, I will continue with the blog. I don't be keeping it up daily, but I will try to, at least, update it monthly or whenever something exciting happens. I will try to always post on FaceBook when I do, so my FB friends will know to check out the blog.
This has been such an amazing journey and, in a way, it has only begun!!!!