Well, I didn't work with Trouper on Tues. When "Nanna' came to watch Montana Tues morning, I worked with Dakotah with plans to work Trouper when Grandmother came Tues evening. As I was working with Dakotah, I started loosing my vision and I ended up having a really bad migraine that left me in bed for the rest of the day. I have been having them often since my heart procedure, but they say it's not related. Luckily, Papaw was home early and took Montana to give me complete silence!
Tues night, I got a great surprise!! Dani brought me a black headstall for Trouper!!! It matches his tack perfectly! I had a brand new show snaffle that I bought a few months back (before Trouper) that I put on it. 
Wed, Jamie and I made plans to go on a trail ride when he got home. I had Trouper and Dakotah saddled up and ready. Before we headed out, I put Trouper's new bridle and bit on him and rode him around in the arena.
I took this pic with my cell phone of Trouper and his new bridle and bit!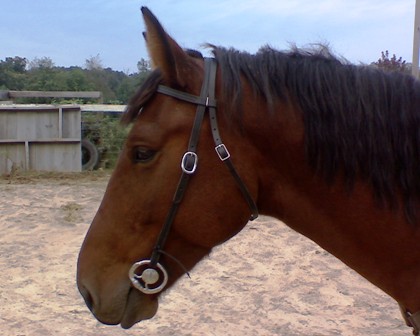 Trouper did well with the new bit, but I didn't want to take him out on his second trail ride with a new bit. I quickly changed bridles and down the road we went.
Trouper did really well!! We had the most relaxing ride. Both horses were very calm and we just plodded along. There was a couple times where I could feel Trouper's attention drifting off to something that "could have been" scary, but I would just push him up into the bit and bring his attention right back to me. Trouper's feet were still pretty sore. I'm hoping that they will toughen up and I'm going to ask the farrier to leave more sole next time so he can handle the dirt roads better.
We passed a bunch of dogs that ran out barking at us and chasing our 3 dogs that went with us. Trouper seemed a little nervous, but I talked to him and kept saying "easy" and he calmed right down. We cut up off of the dirt road for a little while and road in a huge open grassy hay field. I could feel Trouper's energy rise when we were in the open pasture, but he did great. He tried to eat grass a few times but I kept after him. He won once and pulled harder than I did and snagged a tiny bite. LOL Trouper walked out much better in the grass, so I could tell that it felt much better on his feet.
Jamie and I both really enjoyed the ride together and both horses did great!!
Today (Thurs) I got allot of great advice and youtube videos from my friend Tina on how to put a spin on a horse. I read emails, asked questions and watched youtube videos all day and was so excited to try some new things out with Trouper today. I also had a CD that has some songs on it that I might use should I make it to the Top 10 Finals at the EMM that I wanted to play while I worked with Trouper.
I put his new bridle and bit on him and gave the CD to my mom who pulled her truck right up to the arena, opened the doors and turned the sound up loud. I trotted Trouper at a lunge in dmall circles with his lead rope a time or two each direction and then hopped on him.
I started out working Trouper in the center of the arena walking in small circles. I was getting used to being aware of where his front feet where at all times and working on when to ask him to cross over on the front end. Here we are practicing that.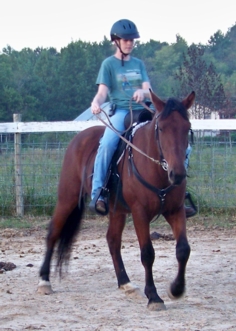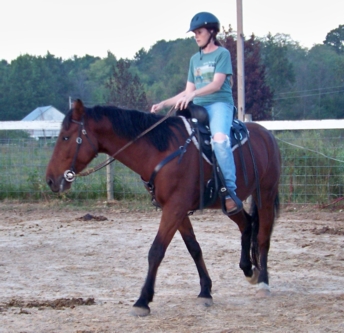 Trouper wasn't too sure what to think about the music at first. whenever we were on the side of the arena near mom's truck, he was in a hurry to get to the other side of the arena and would walk more briskly. I decided to put Trouper into a canter and right after we passed the truck, so I kicked and smooched to him. I'm not sure if he thought the truck was after him, or if he was just excited to have the "go ahead" to get away from it, but he attempted to buck. It wasn't a full blown buck (I've never seen Trouper do one anyway), but more of a head toss and a heal kick-out. It was kind of funny. I couldn't let him get away with it, though. I scolded him and put him into a tight circle while I pushed him through it (the circle). Then, I put him right back onto the rail and asked for a canter again.
This time, mom was ready with her camera. He didn't try to buck this time, though. They never do it when you have the camera ready! LOL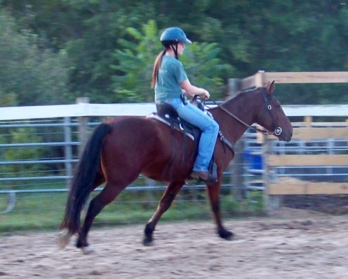 This was the first time that I had cantered Trouper without asking him to lunge at a canter before I rode him. Not sure if it had anything to do with it or not, but he does buck often the first time he canters while being lunged.
Trouper canters best to the right, so after a few times around, I changed directions to work on cantering to the left. He kept cantering a stride or two and then cutting into the center of the arena or breaking down to a trot. I was kicking and smooching with all that I had and it wasn't keeping him going. I asked mom to bring me the crop. That helped!!
I kept driving him forward. Every time I felt him slowing down, I would put me legs into him, smooch and then whack him on the shoulder if he wasn't speeding up by that point. I should be whacking him on the rump, but I can't seem to get my hand back there where it needs to be and keep him going in the circle right also. LOL I need to work on that!!
Trouper and I went around and around to the left until we were both wore out and sweating. It wore me out just keeping him going. I trotted him around a bit and then I went to work on Spinning 101 again. LOL
He did much better by this point! He was listening to my ques much better and was even moving off of the indirect rein much nicer!
Here we are getting a slow motion step or two at a time.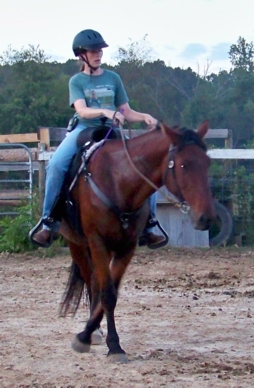 You can see that he is really listening to me and trying!!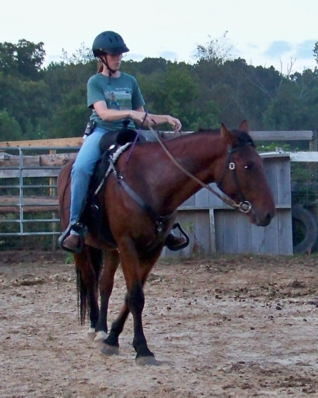 It might not have been the prettiest thing, but I felt that we really learned something today!
During our cool down I decided to see how close I could get Trouper to the gate. I managed to get him right upon it, so I leaned over, grabbed it and shook it. It rattled and he cocked his ear to listen. Then, I leaned over and grabbed the chain that locks it shut and opened it one-handed. When the snap came open, the one end of the chain swung out, making allot of noise and hitting Trouper in the shoulder. He jumped in his skin, but didn't move off at all. I was able to side pass him over a bit as I opened the gate. Then, I rode him out into the yard.
I ended up riding Trouper down the driveway and then down the dirt road!! By ourselves!! This was Trouper's first ride out of the yard without another horse. He did great and walked along quietly. I rode him to my parent's driveway and turned to come back. I rode him up to the mail box and stopped him. He stuck his nose out and pulled it open!!!! What a nut!! It scared the crap out of him (and me too), but he didn't move his feet, just kinda jumped in place. It was soooo funny, though. Then, he stuck his nose back over to it and was pushing up on it like he was trying to close it again!! He did this about three times and managed to get it about half closed. He's so goofy!!
After I untacked and groomed Trouper, it was getting quite dark out. I decided to work on his trailer loading in the dark. We do have a security light in our pasture that sheds some light into that area, so it wasn't completely dark. He wasn't too sure at first as I was trying to send him in the trailer. I had to work him a little bit at a lunge near the back of the trailer and then ask him to go in again. After a few times, he put his front feet in and stopped. I praised him and then let him back out. After that, he would go right in pretty easy. Once he would load, I would walk in with him, pet on him and then ask him to back out.
OH YEAH!.....
I have some very exciting news about the weekend!!! Trouper and I are going to Buckhead, GA for the GA Warm-Up for the Extreme Mustang Makeover Eastern Stampede. A few of the trainers for the EMM will be there giving clinics in the morning hours. Then, at 2pm they will have a Warm Up competition with 20 or more trainers and their mustangs. It will be a great way to break the ice and get Trouper and I ready for the EMM next month. It will also give us some ideas of what to work on. The clinics are free to attend and admission to the competition is free for spectators. It will only cost $20 to enter Trouper and I received a donation to cover that and the fuel to get there and back, so we are going going going!!! I am so excited!!!
If any of your are in or near Buckhead, GA, you should come out Sat and see Trouper! I tried to paste the flyer here, but it's too large, I think. If anyone is interested in more info, just email or comment and I'll send you the flyer.
Jean and Gina, how far are you guys away from Buckhead? I think it's about 1hr east of Atlanta. We will be heading out at 5am in order to get there by 10 am and then coming back late on Sat night. Trouper and I will both be exhausted, I'm sure!! This will be great for us both, though!! Oh, and mom (the photographer) is going also so,hopefully, I will have allot of great photos to share!!