I want to apologize for not blogging for a whole week! That is very unlike me. I have been overwhelmed with things to do, plus our 2yr old, Montana, has taken a spell where she doesn't want to go to sleep at night. Also, I am the type of person who doesn't like to start something unless I am SURE that I can finish it. Unfortunately, that causes me to not start allot of things that really need to be done. Well, Montana is resting, at least for the moment, so I am going to catch up as much as I can.
Thanks to everyone who has checked in and encouraged me to blog, if only a little bit, and then catch up more later.
So, Let's start with last Friday.
Sherri came to watch Montana while I worked Trouper. After I rode him, I decided to give him a good bath to prepare him for Sat. This was his second bath and he enjoyed it more than the first!!!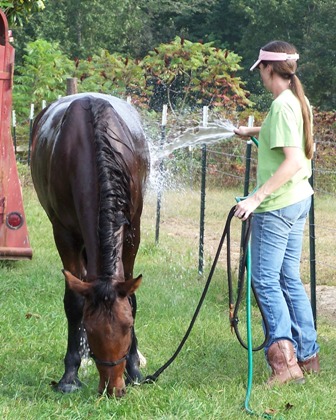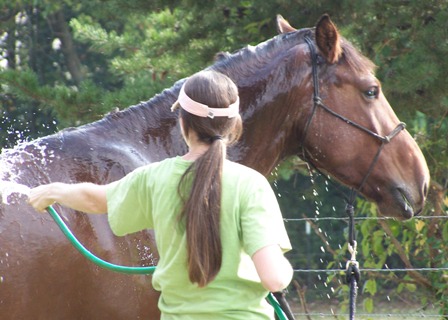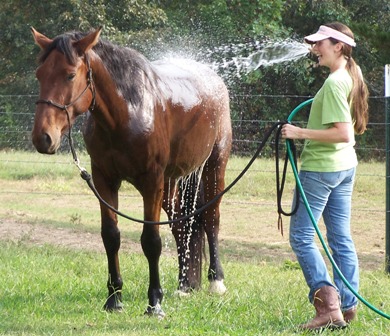 He even lets me wash his face as long as I turn the water on low!!!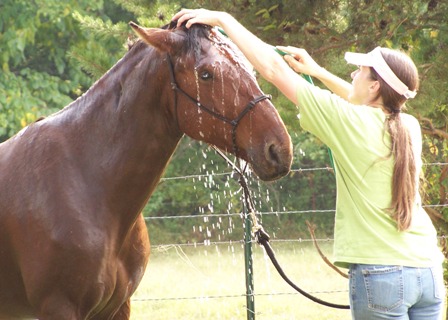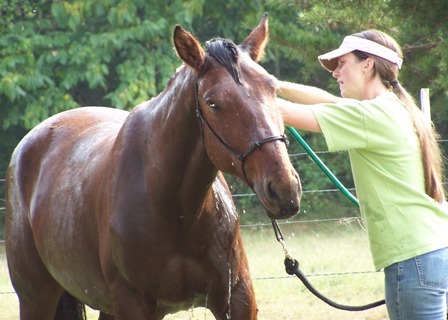 After his bath, my mom rode up on the 4-wheeler, so I let Trouper check it out.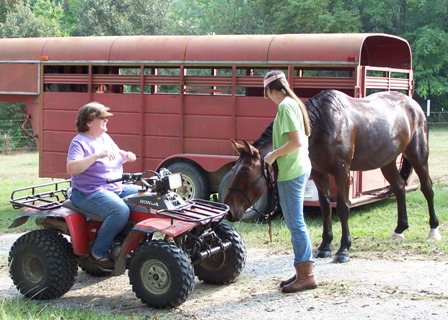 Trouper looked so nice!! I scrubbed his hooves down when I bathed him also and after they dried, I put a clear sheen on them. I also used a bot knife to get all of those pesky bot eggs off of his legs, belly and shoulders. I was also able to flake the last of the dead chestnut off of his front legs. They were long and dry when he came, but with the exercise and conditioning, they are now flush with his skin!
I packed everything but myself, Montana and her stuff and Trouper into the truck and trailer on Fri night so there wouldn't be much to do Sat morning. 
 On Sat morning, I got up bright and got the last minute things together. Jamie had to work Sat, but he got up early with me also to make sure we got off down the road ok. Kelsey and Sarah spent the night Fri night so they could go with us and mom and dad arrived at 4:40am to load into the truck.
Trouper loaded very well in the dark and we were on our way. I didn't think about the competition being on eastern time instead of central, so the 5 hrs I thought we would have to get there turned to 4. Well, we made it in about 5 and were only 1hr late for the clinic demos.
I left Trouper in the trailer while I went in and signed up and got all of the details and they showed me a stall that I could put him in. They handed me a copy of the course and this is what it said:
1. Enter at a walk leading your horse.
2. Proceed to rain coat on fence. Rub on all parts of your horse.
3. Send horse through car wash.
4. Proceed to barrel with bubbles. Wave bubble wand all around your horse.
5. Mount your horse.
6. Cross over bridge.
7. Walk through blue tarp water box.
8. Back your horse through L
9. Jump over cross rails.
10. Trot and canter horse in a figure 8.
11. Dismount and load horse in trailer
Extra obstacles that are in the arena: water box, mailbox, green ball, cap gun, drag a tire, etc
Ok, NOW I'm nervous!! This is going to be like an extreme trail challenge!! He's never seen a single obstacle other than a pole or a log on the ground. YIKES!! LOL There's even a jump in there! Holy CRAP!!! A JUMP!!! At this point, my stomach is rolling so much that I have to make a bee line to the potty!!
I unloaded him out of the trailer and tied him up to the side of it and groomed him up nicely. He looked like a million bucks!!!
Check out my handsome boy!!!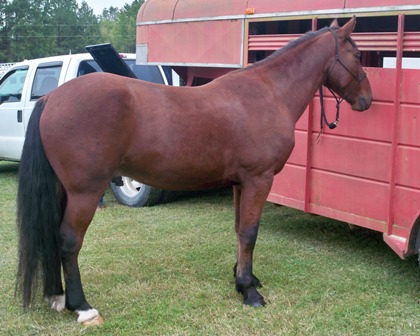 After he was groomed, I took him to his stall. It only took a min to get him to go into it. Then, I let him come back out again. I did that a couple times and then left him in there. I brought him some hay and water and he settled right in!!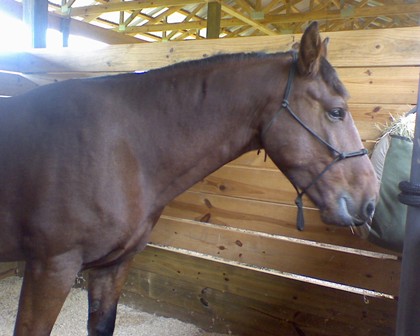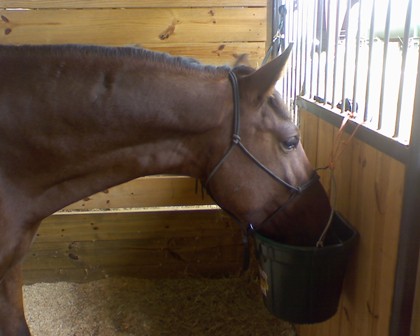 I got Trouper out once and lead him into the front of the arena to see how he would react to being indoors with a sound system. You would have thought we were home in our little round pen! One guy was doing a demo and started cracking a bull whip. Trouper didn't even flinch. Then, the guy pulled out a gun!!!! I was prepared for a disaster, but I tried to stay relaxed and pretend nothing was about to happen. The guy shot the gun and it echoed through the arena and Trouper just stood there. I was very impressed!!!
After I settled down and had a bite to eat, I saddle Trouper up and started riding him around outside the arena barn.
I look nervous in this picture!! I settled down pretty quickly, though, when I saw that Trouper was as laid back as usual.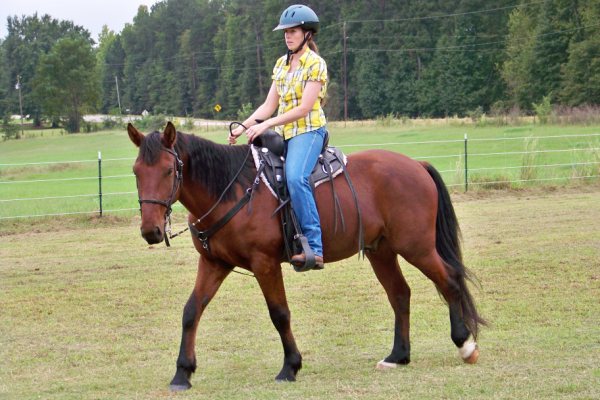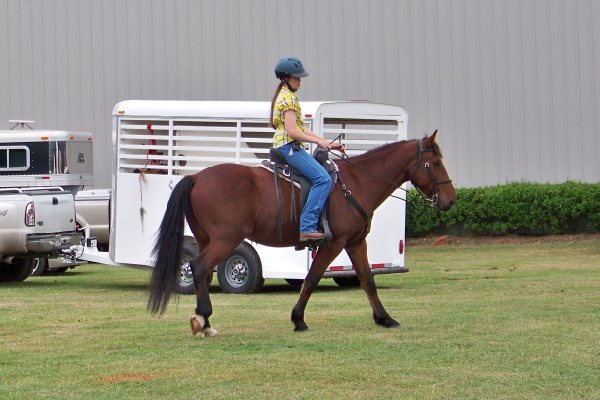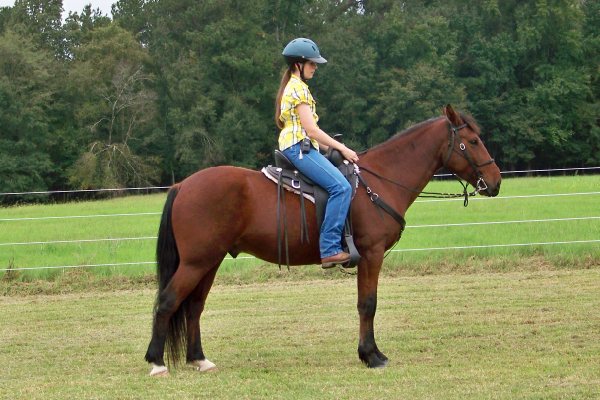 Say Cheese!!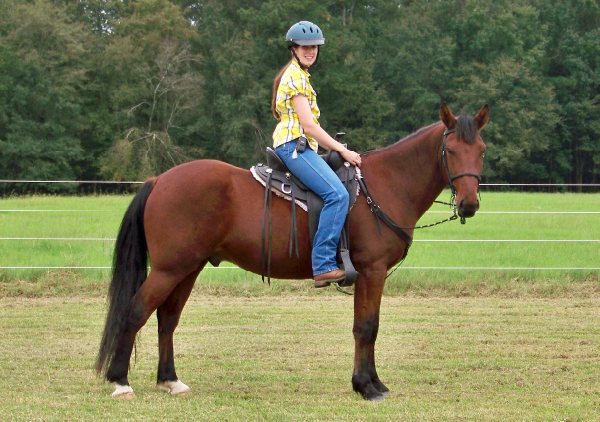 Of course, you all know moms, always having to zoom in for a close up. :-)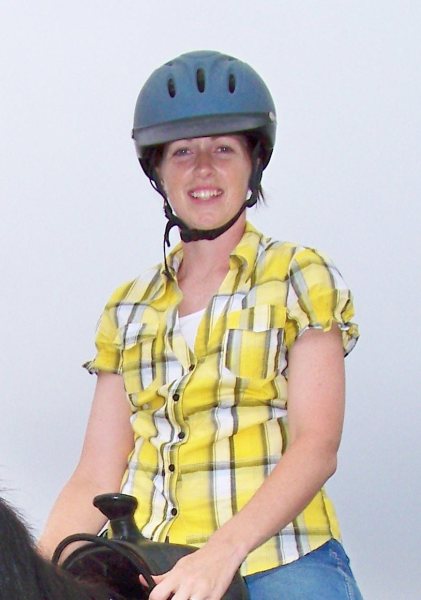 After I rode Trouper around for about 30 mins, they opened the arena for a warm-up time.
Everyone went in the arena together and it was very chaotic, but it was great for Trouper!!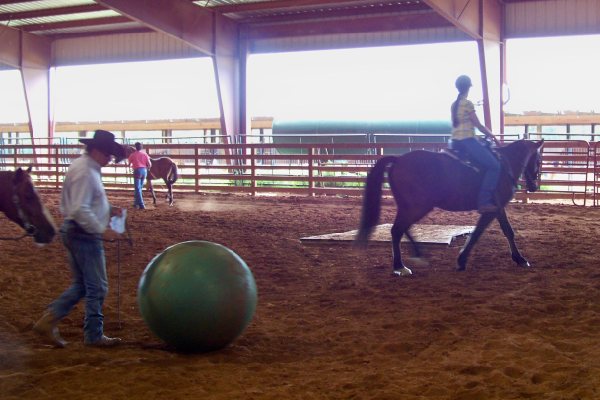 Montana is not resting anymore and things are getting chaotic in here, so I'm going to end part one here for now.
We are heading to the Dekalb County Fair soon to enter Montana's mini donkey, Wilbur into the fair!! I will try to finish part two of the competition tonight.