At long last, I'm going to attempt to finish part two. Life just hasn't allowed me to blog much lately. It seems every time I make plans to blog, something else gets in the way.
I'll give an update on last night quickly. Trouper had gas colic and I was up with him until 3:30am. I broke down and called the vet at 2am who told me to go ahead and give him 11cc of Banamine, trot him for 20 mins, offer him warm water and then choice of warm water and cool water with electrolytes. He never quit pooping, but his gas was so bad, I could hear his belly pinging from 8 feet away!!!
We had Trouper off feed and hay until this evening and we started weaning him back on them both. As of an hour ago, he has gas again!!! It's not as bad as last night and I'll keep a check on him. Hopefully I won't be up as late this time, though. I am exhausted!!
I'm going to check with the vet tomorrow and if she says it's ok, I'm going to go ahead and worm Trouper with Quest Plus. I'm wondering if it's a parasite that acts up after he eats. My poor boy was so sweet last night, though. He really enjoyed the attention.
Ok, now on to last Sat's competition. I ended the last blog with the pic of Trouper and I riding in the arena with all of the obstacles and other riders. I rode Trouper around at a walk and got him to walk by as many obstacles as possible. He wasn't sure what to think about being in a large indoor/covered arena, especially with all of those weird things in there. LOL
I was wishing that we had been able to arrive before the demos started as they had opened the arena up for everyone to practice then also.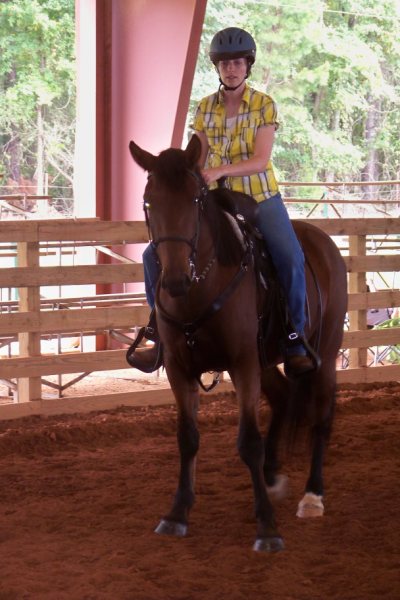 I met a new friend, Kelsey, and her mustang, Mo Money, at the competition. Her mustang was breezing through all of the obstacles like it was nothing! She was great to slow down and let her horse encourage Trouper to try new things. Here we are checking out the bridge.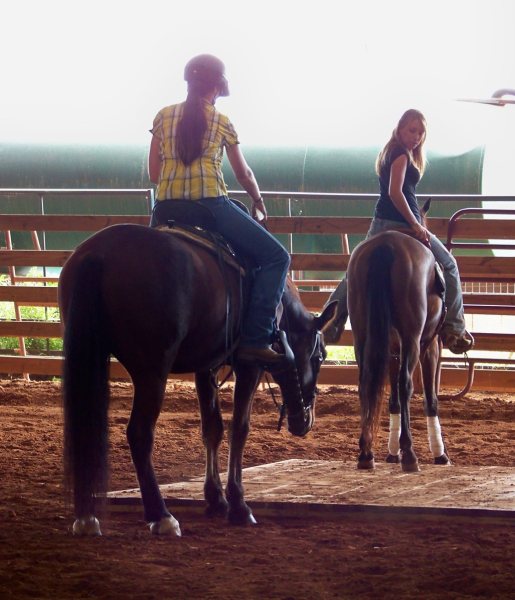 It took a few minutes, but Trouper went across the bridge!
After a few minutes, I got brave and started trotting!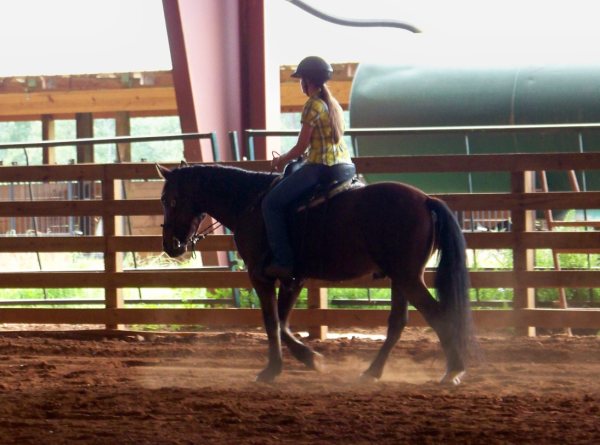 I rode Trouper up through the L and practiced backing him through it.
As you can see, there was allot of commotion going on around us, but Trouper concentrated on me really well. We would approach a scary obstacle and then another trainer would gallop by us on their mustang and Trouper would remain calm.
When I had read the course, I laughed at the fact that there was a jump. Trouper had seen a grey pipe laying on the ground before, but never a jump!! I decided to take Trouper to sniff it.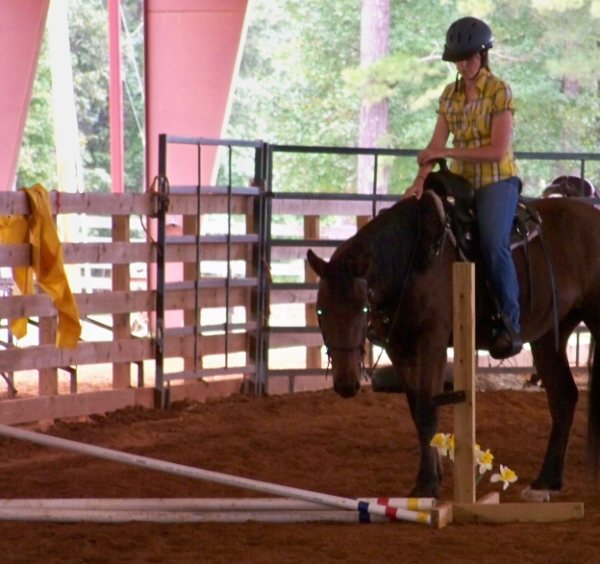 Another rider had knocked down one of the pipes, so I thought I would see if Trouper would step over it. He was very cautious. When he finally went to step over it, he got a bit scared and quickly tried to jump to get over it.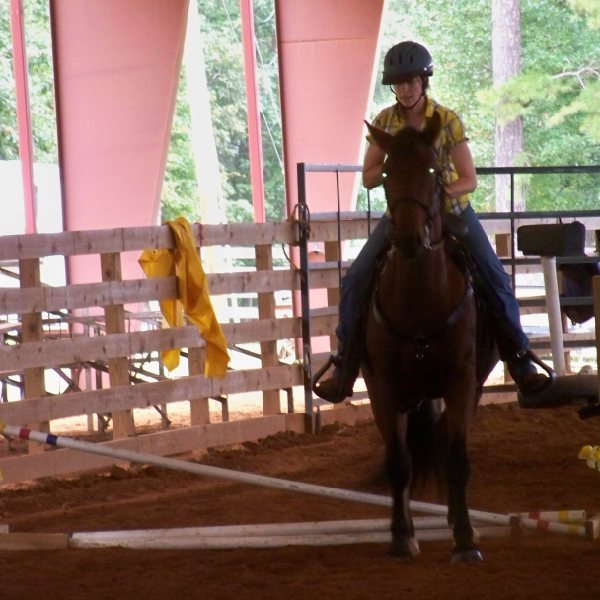 I was just tickled that he went over it and was wishing that it could be knocked down for the competition also! LOL
Not far past the jump, there was a box with water in it. There was mud all around it also. My goal was to ride Trouper between it and the arena rail. He did it great!!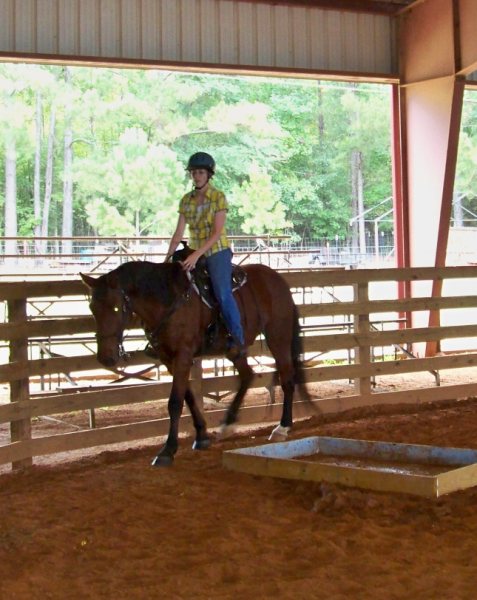 After that, I just rode around a little bit...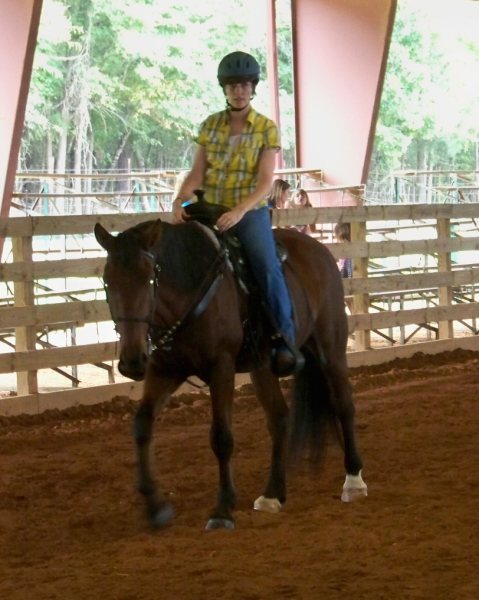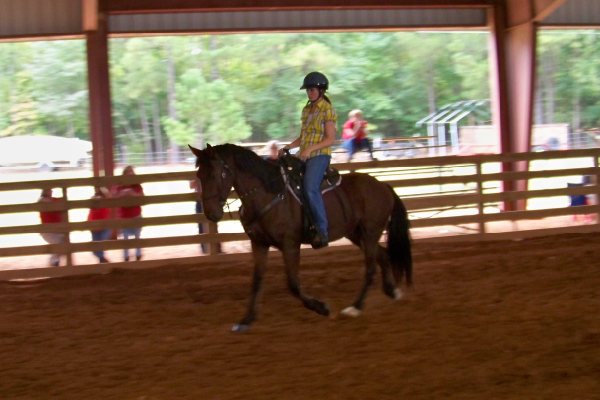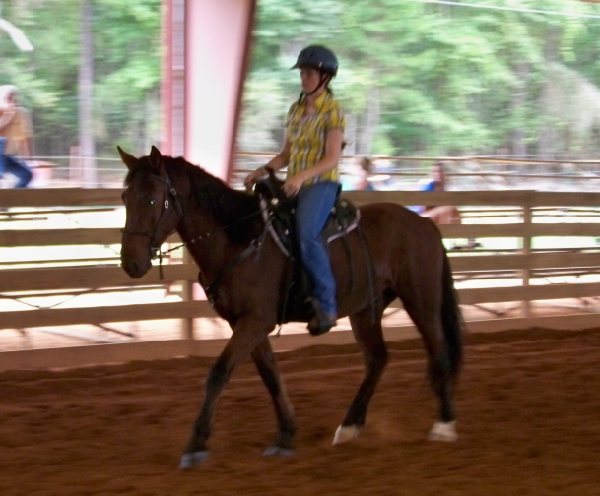 Then, we stopped to visit my dad.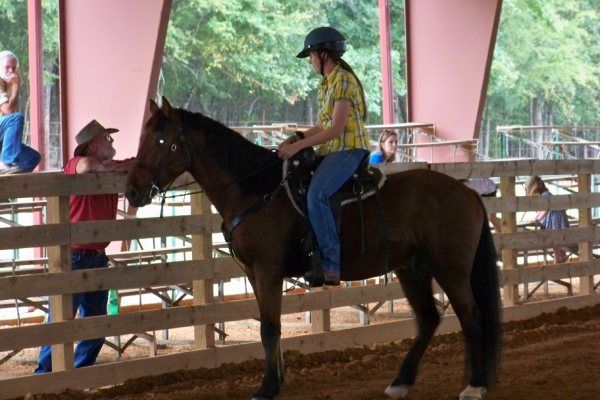 I realized that everyone else had been practicing the "car wash," so I went to practice it also.
Trouper was like, "You want me to WHAT?"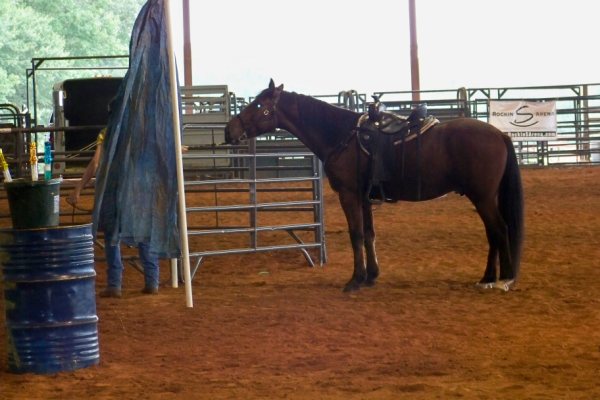 After a bit of practicing and with help from my mom holding back a few of the tarp tassels a few times, I was sending Trouper through the car wash.
Then it was time for all riders to meet up to go over the rules.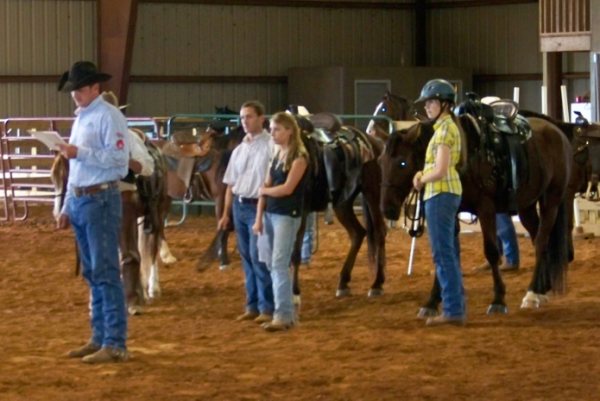 They gave us hints to what they were looking for. For example, they said they preferred a horse that would lead up next to their trainer instead of lagging behind. They also said they would give extra points if you could trot your horse beside of you on your way in. They said that we had a 10 minute time limit and we were to complete all of the required obstacles and then we could use the rest of our time to do any of the extra obstacles or "show off" in any way.
After that, they cleared the arena and then snuck a few extra obstacles in there. LOL
I was about the 9th or 10th rider in the competition. When we entered the ring at a walk, Trouper was right by my side as they said they wanted. Then, I asked him to go into a trot, which he did, beautifully!! I trotted him right past the judges and to the rain coat. I took it off the fence and rubbed it all on him and down his legs. We hadn't practiced this one, but he did great!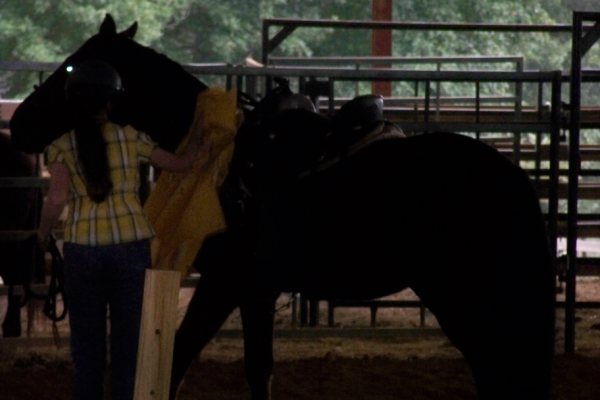 Then, we headed to the car wash. I trotted him again. We had just went to a walk again in this next pic and he fell behind a bit. You can see the three judges watching on.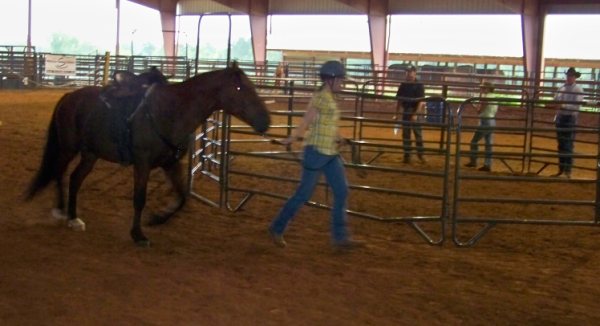 Trouper made me proud at the car wash!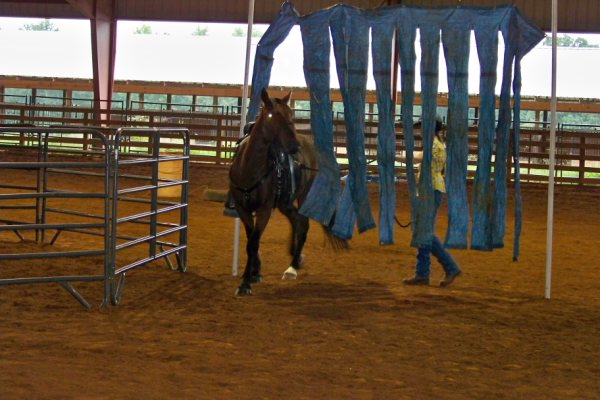 I waved the bubble wand around Trouper's head and he just stood there. Then, we bridled up and Trouper snuck in a poop.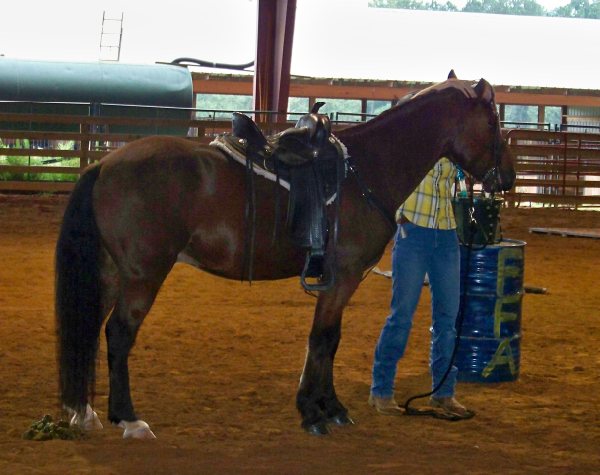 After I mounted, I dropped the reins and sat there for a few seconds to show that he would stand until I asked him to move.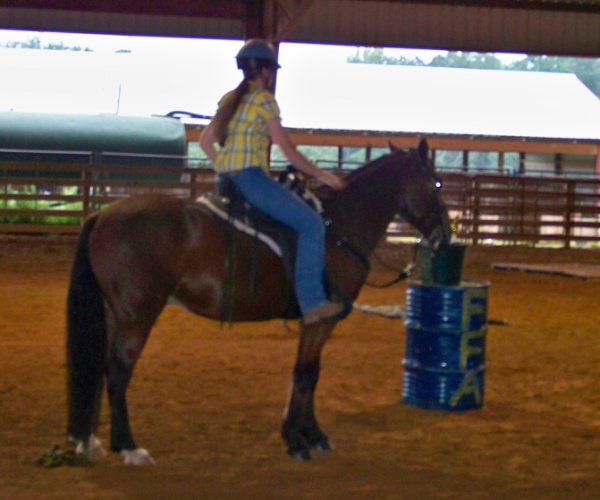 Meanwhile, while I'm competing, my mom is on the microphone. They asked her to give my story for everyone while I was competing. I couldn't hear a thing as I was in my own little world with Trouper, but rumor has it, people had tears in their eyes. Someone told me afterwards that we would make a great Hallmark card. LOL
Some great friends and blog followers had came to support us, so while mom was talking they took pics for me. Thanks Ellis!!! Unfortunately, mom's batteries started going dead on this last pic, but I am so glad that he was able to get some pics for me before that happened.
After I mounted Trouper, we went to the bridge. They had brought a tarp out before the competition started and put it right near the bridge. Trouper wasn't too sure about it. LOL I managed to get him to put a front foot on the bridge, but he didn't want to cross and I didn't want to waste all of our time there. I quit on a good note and went ahead.
I didn't ask Trouper to go through the blue tarp water box as it was a BIG booger. LOL I asked him to walk by near it and went to the L. On our way there, a flock of birds flushed out from that end of the arena. Trouper did great!!!
Before practice, everyone was saying that we would walk through the L and then back out, but in the meeting they said they wanted us to walk up to it, turn around and then back through it the other way. I hadn't practiced that and Trouper was confused, so I walked him through it and he backed through it nicely.
Then, we were off to the cross rails! I had no intentions of jumping it, but something possessed me to walk him up to it. I let him sniff it again and asked him to go forward and he jumped it from a standstill. It wasn't pretty, but I was on cloud 9!!!
From there, I trotted him in a figure 8. There was so many obstacles everywhere and this was his first time in a large arena, so I chose to not canter him. I dismounted and went to load him in the trailer, but he didn't want any part of it. LOL It was very high and it wasn't our trailer, so he flat out refused! I kept asking him until he stuck his nose in it and then I pulled him away. They called 1 min, so I wanted to try to sneak in something else.
I lead Trouper to a barrel that had a plastic bag full of cans on it. I picked up the bag of cans and rubbed it on his neck and shoulders and on his saddle and rump. I put them back and then dropped his lead rope and walked away to show how he would ground tie. He stood like a perfect gentleman.
They called time and Trouper and I left the arena. I must have had the biggest smile on my face!! I was so proud of Trouper for all of the new things that he had done and how well he had done them. I had decided before the competition that if I only lead him in the competition, I would be pleased. Then, I thought if I could only lead him and ride him at a walk. Then, we were trotting and going over a jump!!! I was very pleased with Trouper!!
Here's a few pics of the competitors.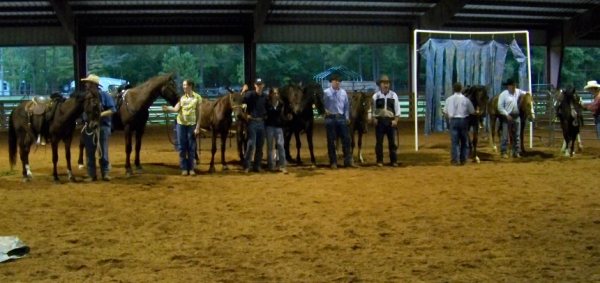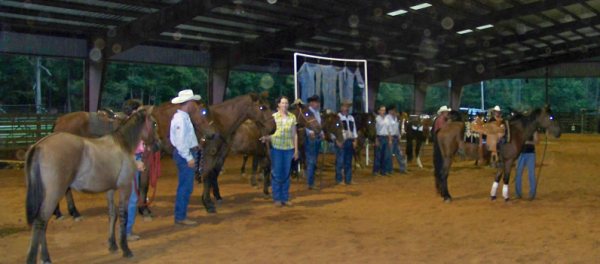 It was hard for us all to fit in a pic, so Kelsey and another guy decided to lay their horses down in front of us!! It was hilarious!!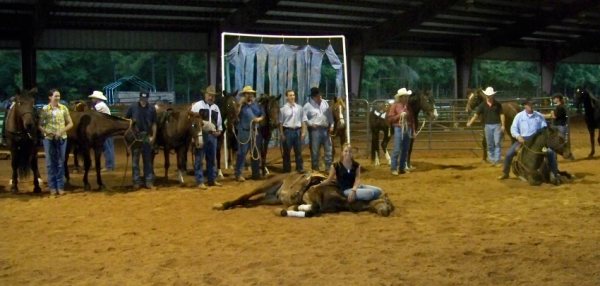 We never did all get close enough for mom to get a pic with everyone in it.
After our photo op, they announced the winners. It was no surprise that Kelsey got 1st. She did great!!! Trouper and I took 6th place!!! I was so excited!! They gave me the judged score cards to keep.
Each obstacle was judged from 1-5. We got zeros from all three judges on the water box, bridge and the dismount and trailer load and zeros from 2 judges on the trot and canter figure 8 since I didn't canter. One judge gave me 1 point for the trot. One judge gave me an extra point for wearing a helmet. One gave us an extra point for how well he did when the birds flew out. We got 5 points from one judge for ground tying and 4 from another one. We got 2 points for creativity, 4 for the sack of cans and 4 for mannerism. Or was that manurism? LOL
At the bottom of each judge sheet was the total  points from that judge. On Judge 1's sheet the total was written in another color ink and it's 7 points less that the actual points given, so I'm not sure what's up with that. Who knows, maybe I actually came in 5th. LOL It doesn't matter. I am very happy with how well Trouper did, no matter what place we came in.
After things settled down a bit, I posed for a pic with some fans. LOL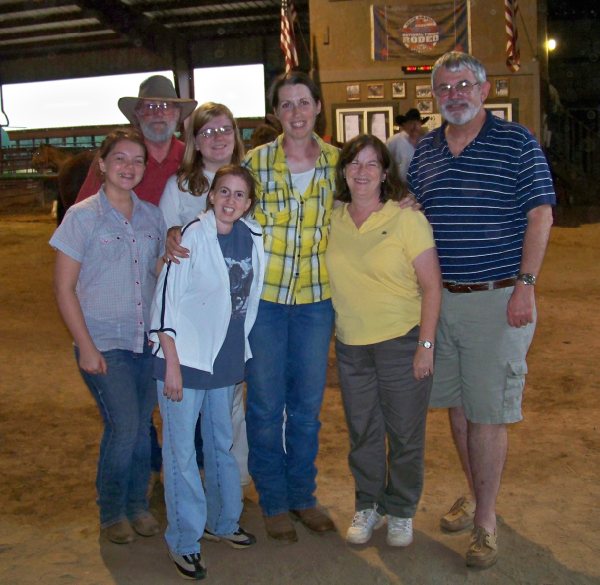 From left: Sarah, Dad, Kelsey, Gina, Me, Jean and Ellis
Of course Trouper posed with some of his fans.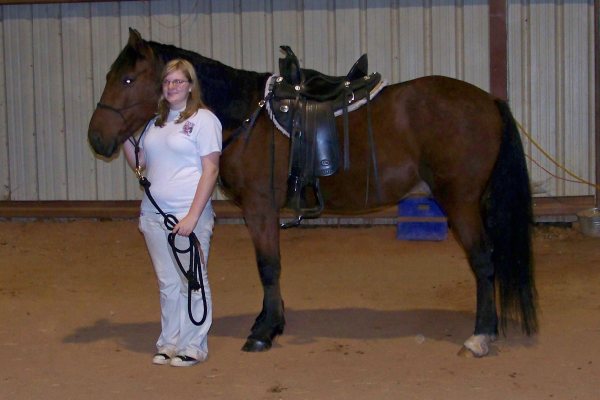 With Kelsey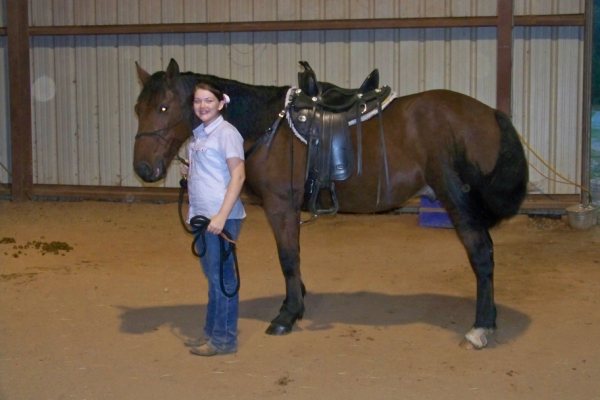 With Sarah
It was pouring with rain by this point, so I brought Trouper's water bucket into the show barn for one last drink before we hit the road.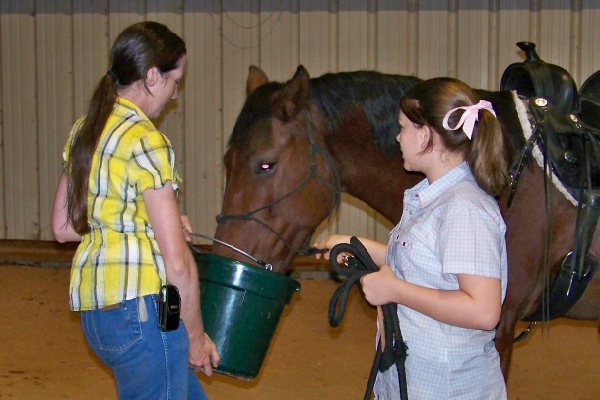 I unsaddled Trouper there in the barn and ran to the truck with the saddle. I gave the keys to dad to start the truck and then ran out with Trouper. It was pouring with rain so much it was hard to see. Trouper loaded up really well, even with the pouring rain.
After he was in the trailer, I made a run for the truck. The ground was so slick that my feet slid out from under me as I approached the truck door and I hit the ground. It was quit hilarious and I was already soaked, so it didn't matter that I was muddy then too. LOL We were all drenched, but we all made it in the truck and we headed for home.
We arrived home at about 11:30pm. I think we all slept like babies that night!!!
One more blog should catch me up to date. I do have more exciting info and pics to show you all, but I am flat exhausted and I'm hoping Montana is FINALLY asleep now. She's been awake and in and out of bed since I started this blog over 3 hours ago.
I will try my best to get caught up and stay that way. Thank you all for bearing with me, though!