Ok guys, I'm trying real hard to catch up a little at a time!! Thank for all of the comments on Part Two of the competition!!
I gave Trouper the day off on Sun after the competition. We had a light workout on Monday. Dani was here to watch and she was offered a great opportunity! I let her sit on Trouper!!! That's right! Until then, I had been the only person to ride him and Montana and Ernie had sat on him.
Trouper was a little unsure at first. His head was up and his ears were back, but he soon settled down. I lead him around for a couple minutes and then backed up to take this pic with my cell.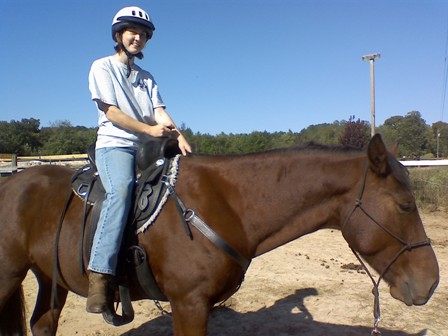 On Tues, Ernie decided to enter the picture again!  As I was riding Trouper around, Ernie started walking along the rail beside me.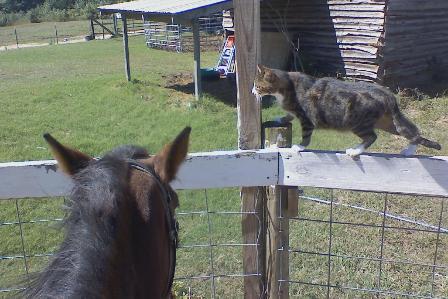 I was inspired by the jump at the competition over the weekend, so I decided to set up something to work Trouper over.
This next group of pics will be called the "Where's Ernie" pics because he is in them all, somewhere!
Here is Trouper checking out the jump and Ernie looking on from the rail top!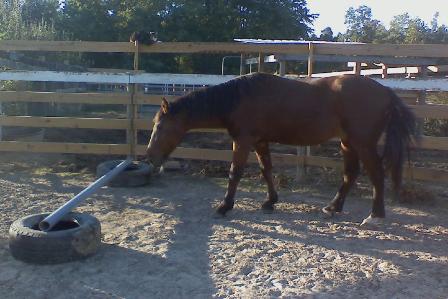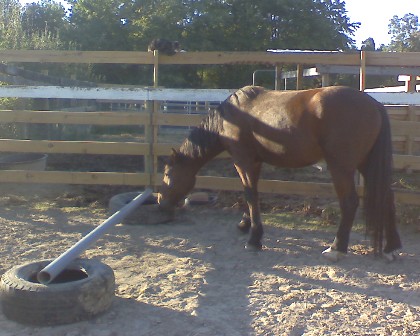 Now enters Gojo, our other rescue cat, to make his debut!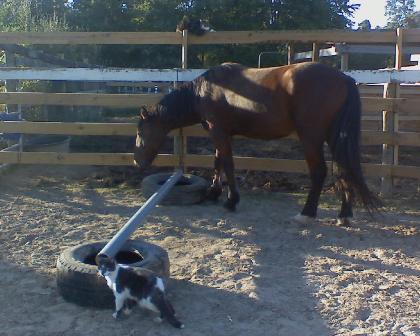 Trouper finds rest over the jump with Ernie looking on from in front of him.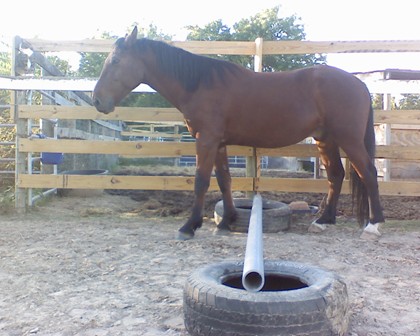 After walking and trotting over the jump for a while, I started cantering him over it for an actual "jump." Of course, Ernie was there for that as well!! :-)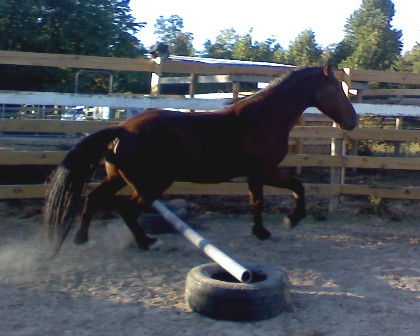 I will try to update on the rest of the week soon, but I want to update on how Trouper is feeling. We think his tummy might be upset from the new hay we got out of the field last week. He had been on round bale, with minimal sq bale daily, but when his last round bale ran out, we upped his sq bale intake about the same time that we picked up fresh hay out of the field. The vet says that it probably wasn't dried and cured enough for his system yet and to take him off of it for 2-3 days and slowly wean him back on it again. Also, to worm him with Quest Plus today and start him on probiotics tomorrow.
He seems much better today, but he still gets gassy after meals, so I hope this helps!