Hello everyone! I feel I owe you all an apology for not keeping my blog updated these last few weeks. We have had so many things going on in our life lately that it has been very difficult to have time to even work with Trouper, much less get online.
Our dear friend Glenn lost his battle with cancer on Oct 17th. He has been fighting it for 5 years now and these last few weeks have really taken a toll on him. He used to come over and sit and watch Montana while I worked with Trouper. He loved that little girl more than we will ever know. He told us once that he lived for her!
Here is a pic of Montana and Glenn sitting on his tractor back in the summer.
This picture alone can portray some of the love that these two shared!
Glenn went down hill very quickly over the last couple weeks and we spent all of our spare time by his bedside so he wouldn't be alone. Montana read him books and talked to him, even when he could no longer respond to her. In the end, they said that Montana was the only one that he would respond to at all. Some of his last words were, "I love you too, girl" in response to Montana. He will be greatly missed!!!
If you live anywhere near us, you know how much rain we have gotten over the last couple weeks! I have never IN MY LIFE seen so much rain! I say that the Heaven's were making room for a special arrival. The day of Glenn's funeral, the rain stopped, the clouds went away and it was a beautiful, warm and sunny day. I think the Heavens were rejoicing with sunshine! Glenn is at peace now!
So, as if Trouper's colic, the rain and Glenn's passing weren't enough, Montana started getting ill a few days ago. Yesterday, she tested positive for H1N1!!!! LOVELY!!! She was put on Tamiflu yesterday. Last night, Jamie and I started feeling ill also, so the doc called us both in a prescription to Tamiflu as well. I have started already and Jamie will when he gets home. They say that it can be used as a preventative medicine also. Lord willing, I will be well enough for the competition this weekend!!
Oh yeah, I had a yard sale this past Sat to help raise money to Bring Trouper Home and it rained or drizzled ALL DAY!! It even sleeting once!! I stayed out there in it and so did Dani. We managed to raise $268, even with the rain!! I am very pleased with that. I will plan another one after it's all over to help make back any more money that we have to put into Trouper. I just hope I can bring him home. I have to realize that if he goes for too much, I won't be able to, though.
Poor Trouper has hardly been touched these past couple weeks. I just hope that things go smoothly at the competition. I do have some pictures to share from Sept 30th and a couple other days since then that I was able to ride Trouper. I will share them quickly without too much narrative comments. LOL As you can imagine, I have SO MANY things to do to get ready to leave out for Murfreesboro, TN early tomorrow morning.
These were taken on Sept 30.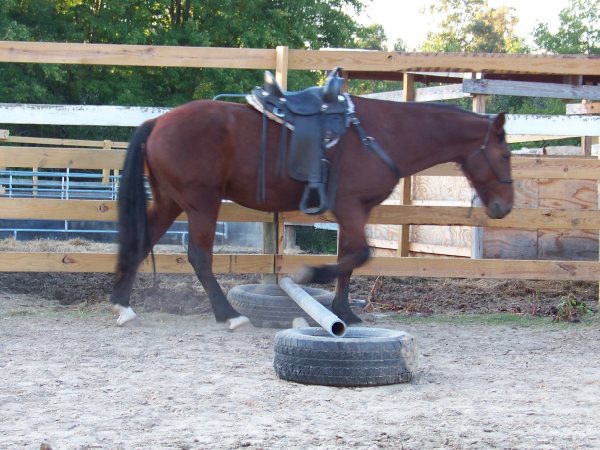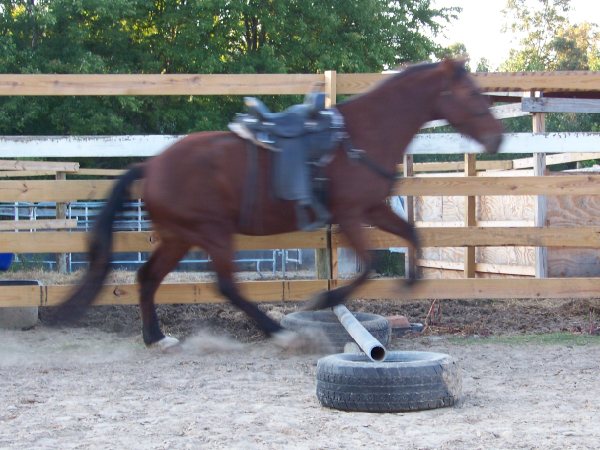 These pics were taken, I think, the next day. I introduced Trouper to spurs. They are the blunt tip spurs. He is very lazy, so I thought it might help to keep me from kicking like crazy. LOL He did great with them and I only had to barely touch him with him!!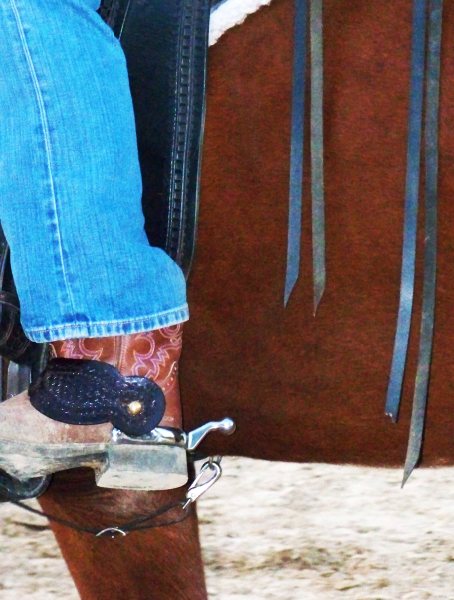 Look how nicely he is flexing/collecting now!!! Well, then. LOL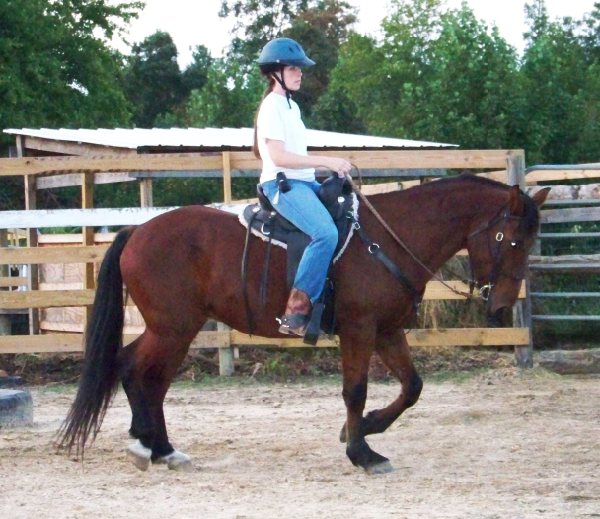 He will also walk up, and even stand patiently, on the bridge now! Thanks to Jamie for building it and for my dad for repairing it as it hasn't been used in months and the screws had broken!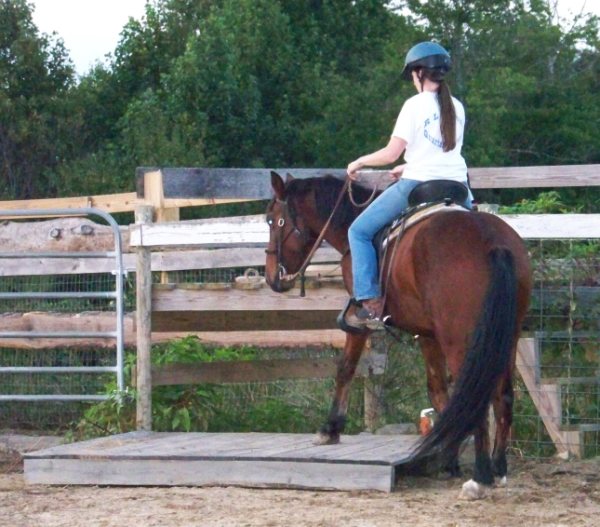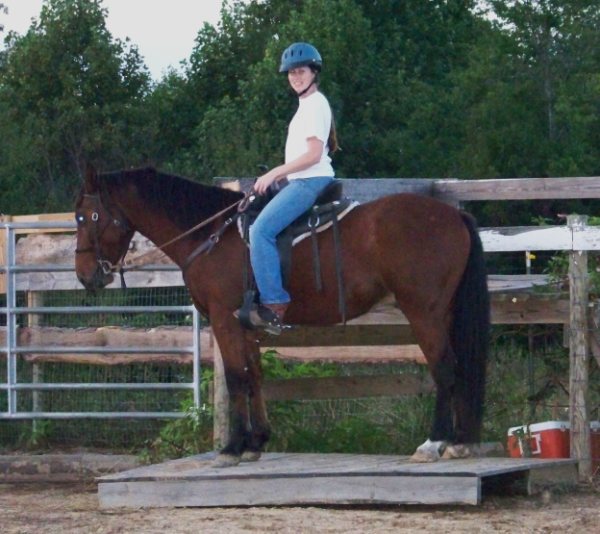 These next pics were taken, I think, on the next day or closely after. This was back before the rain and the drama set in, so it's hard to remember back that far!
I decided to try Trouper out in an English Saddle. He did great, but I felt like a fish out of water. It has been YEARS since I've ridden in an English saddle!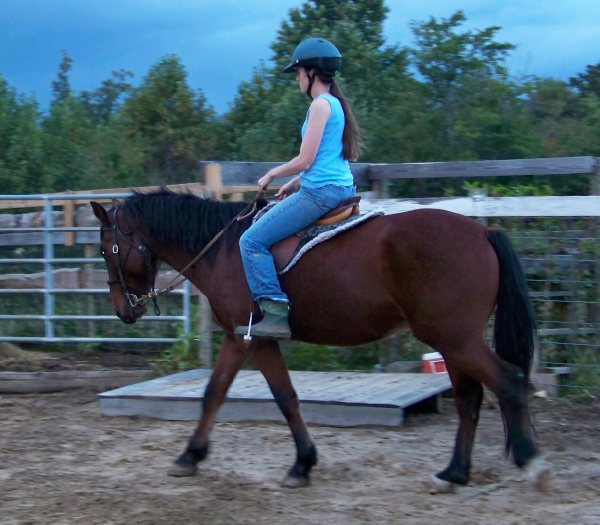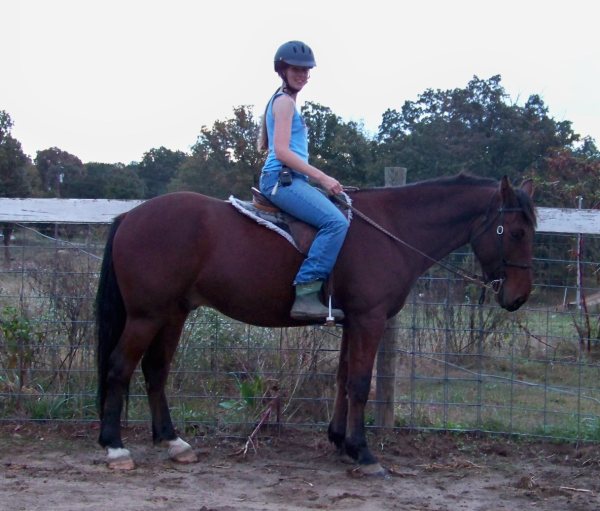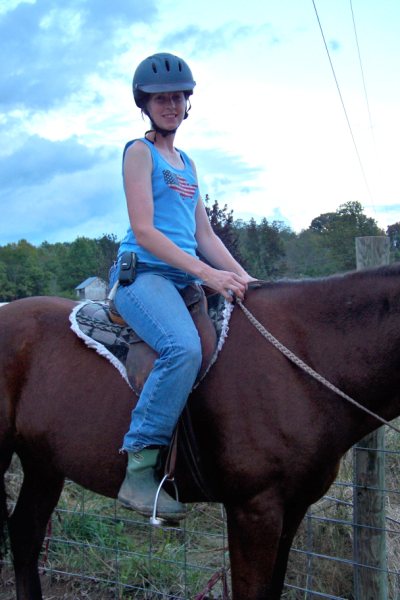 I also want to share some pics from Oct 7th when Trouper was under the weather. We all tried to comfort him and keep him company. Ernie couldn't be left out!!!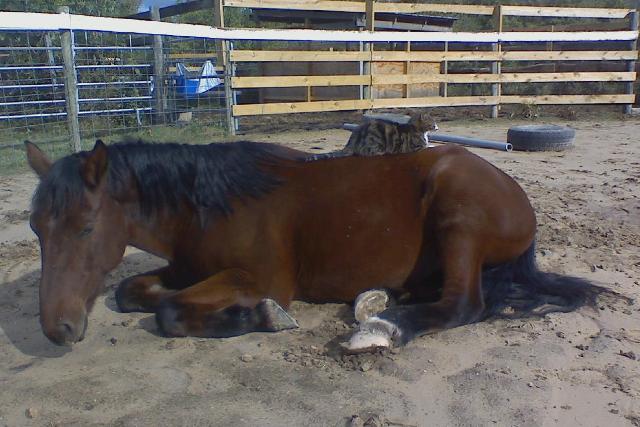 These next to pictures I will cherish forever!!! It's hard to remember that such a short time ago, Trouper was running free and wild and here he is, putty in a 2yr old girl's hands!!!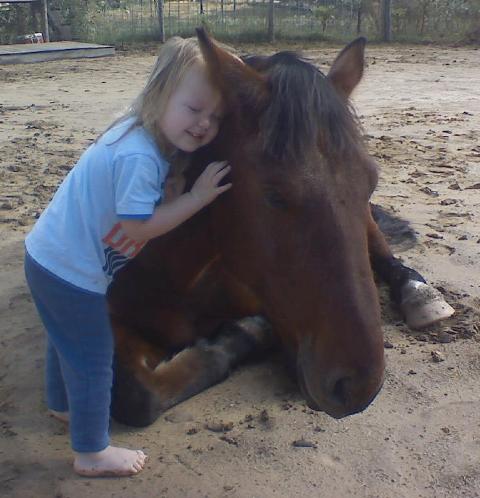 I ask you all to remember us in your prayers this weekend. I pray that Trouper remembers everything that he has learned, even though he's hardly been touched in two weeks. I don't expect him to win, but we will do our best. I am going to dedicate my performance to Glenn this weekend. I know he would love to have been there to support me and I have no doubt that he will be if at all possible!!!
Trouper and I will do our best this weekend. Our main goal will be to stay together in the end!! Thanks to everyone who had donated money, no matter how much, to the Bring Trouper Home Fund!! I really appreciate it and I hope that it's meant for Trouper to come home with me. Lord knows I could use a good strong horse to rely on after all of the drama passes over our lives.
Thanks to everyone who have kept up with my blog!! I will update again once the dust settles after the competition. I will make a quick update on Monday to let everyone know if Trouper came home or not and then I'll update with pics and info from the competition as soon as I possibly can.
Thanks again for everyone support!!! I can't believe the time has flown by so quickly!!! We leave out at about 5am tomorrow!! If Montana continues to do well, she will go with my mom and I when we leave out tomorrow and my mom will stay in the motel with her all day tomorrow and maybe on Friday, if needed. Otherwise, Jamie will have to stay behind with her. Please pray that doesn't have to happen!! Jamie plans to leave out early Fri morning to be there before the competition starts at 8am. I really want my baby girl and husband to be there for me!! They have both sacrificed family time with me so I could work with Trouper.
Wish us well!!!!