Hey Trouper fans! I want to apologize for not blogging in so long. The truth is, Trouper and I have been busy!!!
Trouper and I have been on quite a few trail rides and wagon trains since the EMM. He doesn't get worked anywhere near as much as he should, but he's been faithful to me anyway. He goes weeks without being worked with and I just pull him out of the pasture and hop on him and go. Granted, he does like to crow hop when I ask him to lope when he hasn't been worked with. I blame myself for that, though.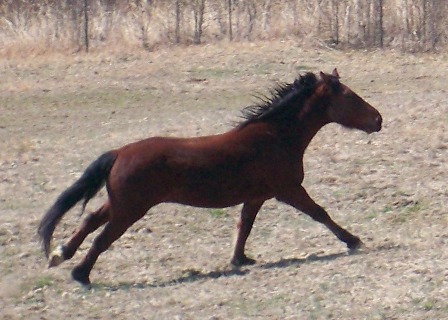 After the Extreme Mustang Makeover, there as an add in the Times Journal about Trouper and I competing and how I was able to bring Trouper home. Dr Campbell, the president of Northeast Alabama Community College (NACC) saw the ad and was excited, because the Mustang is the NACC mascot. He asked someone to call me up to see if I would come to the college to speak and bring Trouper for the students to meet. The date was set for Feb 23, 2010.
I'm not much of a speaker. Heck, I hadn't given a speech since Speech class in college over 5 years ago! Luckily, I enjoy writing about Trouper so I was able to write an 18 minute speech!
NACC sent out a press release in different newspapers and also put it in the news on their website. www.NACC.edu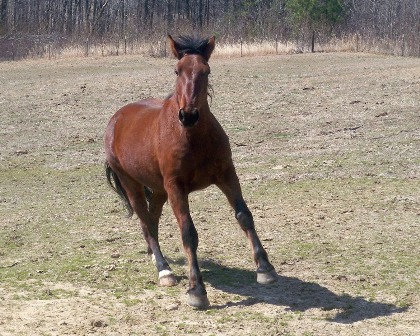 I was nervous about speaking, but it was so much easier than I thought it would be. The speech went pretty well, and I didn't stumble on my words nearly as much as I feared I would.
Here is the audio version of my speech, courtesy of Colleen Scott, one of Trouper's newest fans.
Part One:
http://www.youtube.com/watch?v=4EnTSu5Pnpo  
Part Two:
http://www.youtube.com/watch?v=e16xuMyCgtA&feature=related
The "Meet the Mustang" part was a huge hit! Everyone enjoyed being able to pet Trouper, look at his tattoo, touch his hooves, etc.
While I was there, Dr Campbell asked me if Trouper could be the official NACC mascot! What an honor!!! I was even offered an Achievement Scholarship! Of course, I accepted!!!
There was another big press release announcing Trouper as the official NACC Mascot. It was in papers that I haven't even heard about! Here is the news release on the school website.
http://www.nacc.edu/news/mustang_mascot.htm
Here are some photos taken by Angela Stewart from NACC of Trouper's debut appearance.
http://www.nacc.edu/trouper/trouper_photos.htm
Another exciting announcement!!! I am currently working on a fan page for Trouper on Facebook. I plan to publish it, hopefully, within the next 24 hours. Be looking for Trouper the Mustang!
I encourage everyone to become a Fan to keep up with up to the minute updates of Trouper. I will also post there whenever I update the blog, which I plan to do more often again from now on. You can also keep up with Trouper's events there and see many pictures. I already have lots of pictures taken by Danielle Brewer and Marcella Brown of Trouper's debut appearance at NACC. I will be adding pictures from our first 100 days soon also!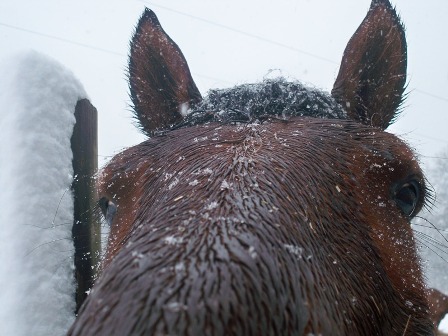 Our next scheduled appearance at NACC will be April 9th, 2010 at 12noon for Spring Fling. I think we'll be there for about 4 hours. Valley Vet is currently working on a monogrammed sheet with the NACC seal on it for Trouper to wear while he's representing NACC. Look for us in the parades sporting our school spirit!!
I plan to start back at NACC in the Fall. I am following my heart and changing my major from Business Management to Special Education. Can you believe that Trouper is sending me back to college????? WOW!!!
Oh yeah!! Trouper is also up on the Extreme Mustang Makeover website!!! Visit www.extrememustangmakeover.com and Trouper's article should be the first listed article on the page. How cool is that?????
Tomorrow, I'm taking Trouper to Reality Farm in TN to see if he and I might have a future in Dressage! I am very excited and anxious about this.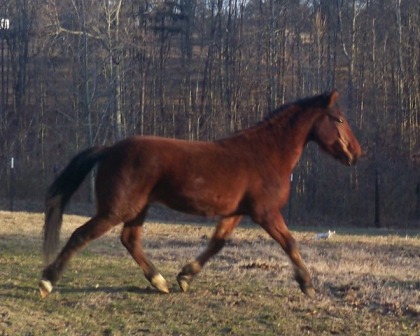 Just for fun, if you get bored.... Google "Trouper the Mustang" "Trouper NACC" and "Trouper and Amber" for lots of interesting newspaper articles, etc. I just didn't want to overwhelm the blog with links.
Another hint of news...... Trouper could possibly be on RFDTV in the near future. Stay tuned for details!!!!
Keep a close eye out!!!